About SH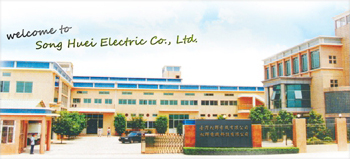 Variable resistor manufacturer
Song-Huei Electric Co., Ltd. was established in 1981 as a world leading variable resistor manufacturer. Our headquarters are located in Kaohsiung Taiwan. Our office here has two production lines, the administration and management office.

Oversea factory
In 1988 was established our main production facilities (FOSFAN Song Huei Electric Co., Ltd.) in the Guan Dong Province (China) , that way we have been able to translate our competitive into considerable cost saving for our customer.
Provide professional
Quality assurance
Next innovation
Every year we re-invest 20% of our profit to the R&D of new products design, and better production techniques to meet the ever changing demands from our customers. We offer solutions for today and tomorrow's technological needs and offer value added services to our customers. Quality has been always a priority for us. We as a company have the firm commitment of providing high quality products at the most competitive prices in the shorter lead time possible.
Technological cooperation
In May 2002 we started a technological cooperation with Tokyo Ko-On Denpa Co., Ltd. Currently we are their OEM for a variety of their products (DJVR, fader and several voice controlled potentiometers ). And this company currently is also sole agent in Japan to sell our products. Song Huei Electric Co., Ltd. has with in its highest priorities to satisfy efficiently all our customers' needs. Our highly experience staff will be at your service to attend your inquiries with the highest diligence and provide you with the best sales service and technical support. We welcome you to contact us any time to discover first hand the advantages of using Song Huei's products and services.